Click here to ask your question about the economy, the markets or something specific to your financial situation.
Founded in 2001 with a singular focus on providing exceptional wealth and asset management services to individuals, families and select institutions
Employee-owned, which ensures our incentives are aligned with our clients
10-person wealth management team, with extensive research and portfolio management experience managing individual stocks and bonds
Customized portfolios created to meet each client's unique needs
Commitment to outstanding client service
Portfolio Review
Contact us today for a complimentary portfolio review. Particularly during this highly volatile time it is important to assess your current portfolio to see if it is positioned to meet your long- term needs.

Why Choose Tower Bridge Advisors?
Wealth and Asset Management for You
Independent
As an employee-owned firm, we are guided by one principal–doing what is in the best interest of the clients. Our portfolios are customized for each client's needs, with complete transparency as to the individual stocks and bonds we manage in their accounts.
Experienced
Our extensive experience in the investment industry means that we have seen up markets, down markets and everything in between. That private wealth management experience provides us with the perspective to manage each client's portfolio consistent with their particular needs, regardless of the market conditions.
Client Focused
The process of working with a client starts with a thorough understanding of their life goals, their risk tolerance and their need for growth and income. Understanding a client's needs is an ongoing process. We ensure that changing needs and goals are taken into account when revisiting each client's financial plan every year.
The Tower Bridge Difference
Tower Bridge Advisors was founded in 2001 with a mission to provide high quality wealth management advice alongside outstanding client service. As a
registered investment advisor
, we manage equity and fixed income portfolios comprised of individual stocks and bonds. Our clients choose us because of our commitment to investment research, our experience in managing client portfolios and our laser-like focus on our clients' needs. Our
wealth advisors
each have, on average, more than 25 years' experience researching investment opportunities, and managing portfolios through up as well as down markets. Our
investment process
starts with a clear understanding of each client's unique financial situation, and takes into account their tax status and tolerance for risk. Only by understanding these factors can we develop an appropriate investment solution truly customized for each client.
Our rigorous
investment process
results in a customized asset allocation for each client. Each client's portfolio is constructed of 35-40 stocks which represent the best ideas of our investment team, and an appropriate allocation to bonds to achieve the client's requirement for income and stability. From a client service standpoint, we make ourselves available for phone calls and in-person meetings as frequently as desired. Our clients appreciate talking directly to the person who manages their account. Our team of experienced administrators also reach out to our clients to ensure proper management of all administrative details of their accounts.
Economic Update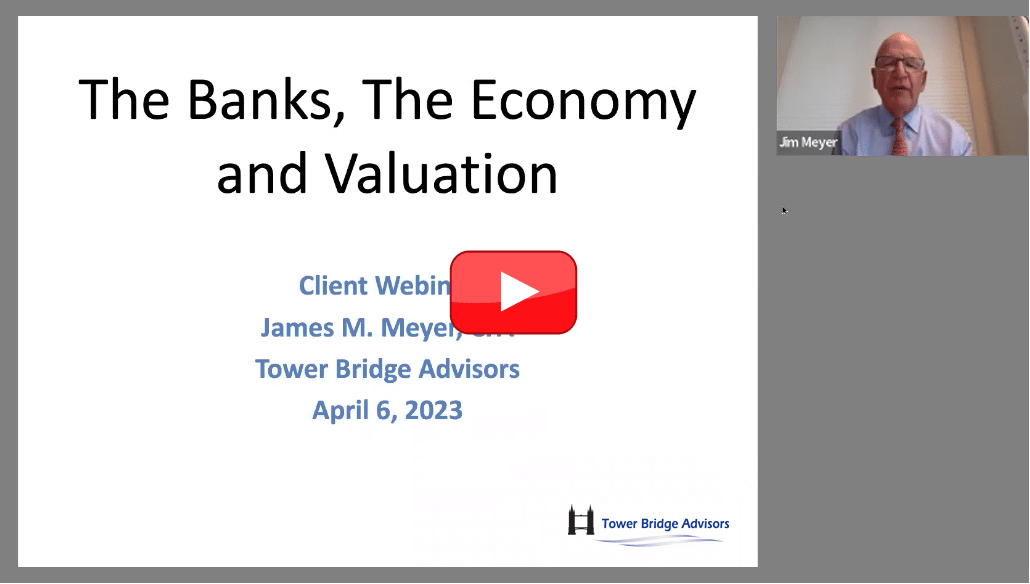 April 2023 Economic Update – The Banks, The Economy and Valuation
In this video, Tower Bridge Advisors' Chief Investment Officer Jim Meyer discusses three key topics impacting investors – Banks, the Economy and Valuation. Please watch as Jim provides some perspective on these topics and gives investors some sense of how to position portfolios for what lies ahead.
WATCH NOW
Market Commentary
Receive our timely and concise perspective on current market conditions every Monday, Wednesday and Friday.
Wealth Management FAQs
Frequently Asked Questions: Click here for answers to commonly asked questions about our wealth management services and business operation.